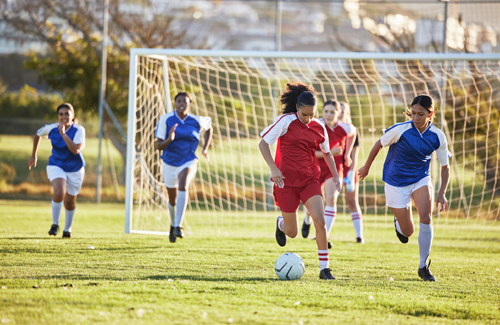 Parents and kids across the country are preparing to head back to school. A new season of fall sports is about to start and with the increase in the number of young athletes participating, injuries are bound to happen. One-half of injuries in young athletes occur from overuse.1 It's critical to understand why overuse injuries happen so you can take the steps to prevent them.
Overuse injuries occur when there is an imbalance between breakdown and recovery. As athletes engage in exercise, muscles, tendons, ligaments and bones are broken down. Rest is extremely important to allow for the recovery and rebuilding of these tissues. When there is more breakdown than recovery, overuse injuries tend to occur. Typical injuries include muscle strains, tendonitis, stress fractures, and growth plate injuries. Excessive breakdown can happen as a result of too much repetition and/or incorrect technique.
Many overuse injuries in young athletes can be prevented by following these guidelines:
Incorporate adequate rest- take days off
Pay attention to signs of injury and address them early- don't push through the pain
Avoid over-fatigue, which often results in deterioration of form/technique
Use proper technique-consult a physical therapist
Institute cross-training
Maintain an active lifestyle throughout the year
Don't specialize in one sport year-round- play a variety of sports
Warm up and stretch before exercising, and cool down afterward
Stay hydrated
Eat a well-balanced diet
Prevention of overuse injuries is key. Many overuse injuries can set athletes on the sidelines for months. The most important step an athlete can take is to rest. There is nothing more important than allowing your body to recover after exercise. If your athlete is experiencing pain or discomfort that hasn't subsided with at-home remedies, get it checked out by an experienced orthopedic surgeon. Dr. DiGiulio has extensive experience in sports-related injuries.
1. https://www.healthychildren.org/English/health-issues/injuries-emergencies/sports-injuries/Pages/Preventing-Overuse-Injuries.aspx?gclid=Cj0KCQjwho-lBhC_ARIsA
Milan M. DiGiulio, M.D. offers comprehensive orthopedic care for you and your entire family, specializing in Sports Medicine and arthroscopic surgery of the shoulder and knee. Dr. DiGiulio performs over 200 arthroscopic shoulder and knee surgeries each year, using the most advanced surgical technology. Dr. DiGiulio is an advocate of non-invasive, non-surgical treatment options such as Physical Therapy and Orthobiologics.