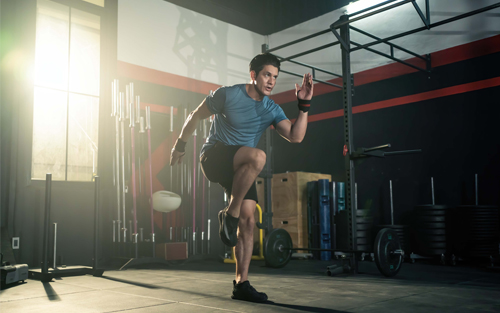 Runners naturally build up strength in their legs, but without a strength training regimen, the hips and core are weak and the body as a whole is vulnerable to injury.1 If you compare your body to that of a tree, when a storm strikes a tree with a weakened trunk, is more likely to fall no matter the strength of its limbs.
We often think of exercise in two separate categories: cardio and strength. The two may exercise different parts of the body, but engaging in both types of training is crucial to injury prevention.
When running, the body can experience impacts equal to three times the body weight. This requires a significant amount of strength and stability to endure such force, especially in the hips and core. Therefore, it is important to build up strength in the trunk to prevent injury.
Building up healthy core strength for running doesn't mean you have to lift weights for hours every day. Just two or three 20 to 30-minute strength-training sessions a week will significantly stabilize your running. The Department of Health and Human Services recommends these strength training guidelines for healthy adult runners: Exercise all major muscle groups at least two times a week. To begin with, use a weight or some form of resistance for a single set of each exercise in your strength training regimen.
Adding strength training to your fitness plan will not only improve your overall health, but it will make you a stronger, safer runner.
Milan M. DiGiulio, M.D. offers comprehensive orthopedic care for you and your entire family, specializing in Sports Medicine and arthroscopic surgery of the shoulder and knee. Dr. DiGiulio performs over 200 arthroscopic shoulder and knee surgeries each year, using the most advanced surgical technology. Dr. DiGiulio is an advocate of non-invasive, non-surgical treatment options such as Physical Therapy and Orthobiologics.
1 https://www.centerfoundation.org/2019/05/
2 https://www.mayoclinic.org/healthy-lifestyle/fitness/in-depth/strength-training/art-20046670