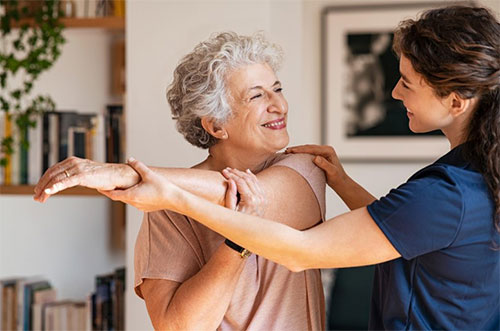 The purpose of surgery is to repair something that has been damaged so that a patient can live anactive life. Without physical therapy, the full effectiveness of a surgery is not realized.Regardless of the type of surgery, physical therapy plays an important role in recovering fromsurgery, as it helps the body adjust to the repairs made, to optimally heal, and ultimately return toan active lifestyle.
The success of the surgery and speed of recovery will depend mainly on a patient's activeparticipation in physical therapy.
Physical therapy can:
Improve mobility faster
Reduce pain and swelling
Faster recovery
Improve balance
Reduce scar tissue
Help you regain strength post-surgery
Eliminate or limit the use of pain medications
A Physical Therapist will work to meet the patients individual needs. A physical therapyevaluation is performed and treatment plans are tailored to fit each individual patient's particularset of goals. Our physical therapists have received post-graduate levels of education and areknowledgeable about musculoskeletal procedures. They are equipped to develop individualizedtreatment plans that enhance the success of the procedure as well as improve the patient's qualityof life after surgery.
Milan M. DiGiulio, M.D. offers comprehensive orthopedic care for you and your entire family,specializing in Sports Medicine and arthroscopic surgery of the shoulder and knee. Dr.DiGiulio performs over 200 arthroscopic shoulder and knee surgeries each year, using themost advanced surgical technology. Dr. DiGiulio is an advocate of non-invasive, non-surgicaltreatment options such as Physical Therapy and Orthobiologics.