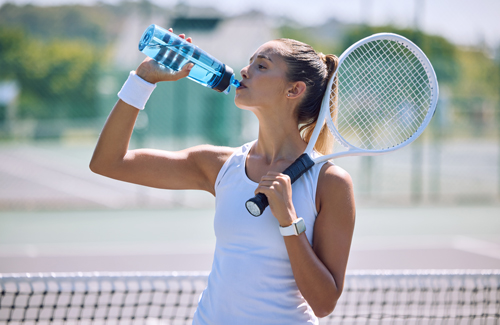 Summer is here and it is the perfect time to soak up some sun and get active outdoors. Many people are gearing up to get back to the summer activities they love, but after spending months indoors, sports medicine doctors tend to see a significant rise in injuries. Whether you're an athlete or simply enjoy recreational activities, injuries can be a major disappointment. If you want to enjoy the summer activities you love without being hindered by an injury, follow these tips:
Hydrate: Staying hydrated should be your main goal as you participate in outdoor activities during the summer. Dehydration can cause muscle injuries and heat illnesses. Aim to drink 5-10 ounces every 10-15 minutes and do not wait until you are thirsty to drink.
Eat a well-balanced diet: A balanced diet full of fruits, vegetables, whole grains, and lean protein can help keep you healthy and prevent injuries. Food is fuel for your body!
Warm-up: Before you start your activity, even if you "feel" warm, be sure to warm up and stretch your muscles. This is the best way to prevent muscle injuries. Take a slow jog and get the blood flowing to your muscles and then stretch for a few minutes before you begin any activity.
Take breaks: Don't forget the importance of taking breaks. Listen to your body, and take a few minutes to rest and hydrate before you jump back in.
Use protective gear: Appropriate gear is essential regardless of the sport or activity you engage in. Gear that fits appropriately can prevent or reduce injuries.
It's impossible to completely avoid all injuries but following these steps can give you the best chance of staying healthy and injury-free this summer. If you happen to experience an injury, these tips will also help you in your recovery. Please note that any injury that lasts several days and doesn't respond to home remedies, should be seen by your doctor.
Milan M. DiGiulio, M.D. offers comprehensive orthopedic care for you and your entire family, specializing in Sports Medicine and arthroscopic surgery of the shoulder and knee. Dr. DiGiulio performs over 200 arthroscopic shoulder and knee surgeries each year, using the most advanced surgical technology. Dr. DiGiulio is an advocate of non-invasive, non-surgical treatment options such as Physical Therapy and Orthobiologics.