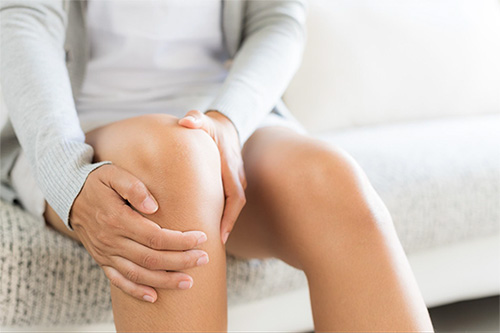 Knee pain is one of the most common reasons to see an orthopedic doctor. According to research reported in the Washington Post, approximately one in four adults suffer from chronic knee pain.
Your knee is one of the largest weight bearing joints and consists of several moving parts. Because of its complexity and functioning, knee injuries that lead to knee pain are a common occurrence.
Knee injuries can result from a small slip to an acute trauma or even just from the normal wear and tear of activities as we age. Usually, knee injuries in younger patients are the result of a sports injury. In active adults, ACL or MCL tears are the most common knee injury, but sometimes patients can experience knee pain and not point to a specific cause or injury. So when do you seek treatment for knee pain?
Typically, a minor knee injury can be treated at home with the RICE method – Rest, Ice, Compression, and Elevation. These minor injuries will usually get better with rest and should show improvement of symptoms within 48 hours.
However, you should seek treatment for a knee pain if you are experiencing the following symptoms:
Fever
Pain that is unbearable
Persistent swelling and inflammation of the knee
Loss of motion
A feeling of instability in the knee
Pain that doesn't improve with rest
A large puncture wound
If your knee pain lasts longer than a week, you should make an appointment to have your knee evaluated. Waiting too long or pushing through the pain may cause more damage and result in a more complicated treatment or recovery.
Timely treatment is a benefit to both you and your knee. With advancements in orthobiologics and minimally invasive techniques, restoring knee mobility and functionality after injury is a reality for people of all ages.
Milan M. DiGiulio, M.D. offers comprehensive orthopedic care for you and your entire family, specializing in Sports Medicine and arthroscopic surgery of the shoulder and knee. Dr. DiGiulio performs over 200 arthroscopic shoulder and knee surgeries each year, using the most advanced surgical technology. Dr. DiGiulio is an advocate of non-invasive, non-surgical treatment options such as Physical Therapy and Orthobiologics.